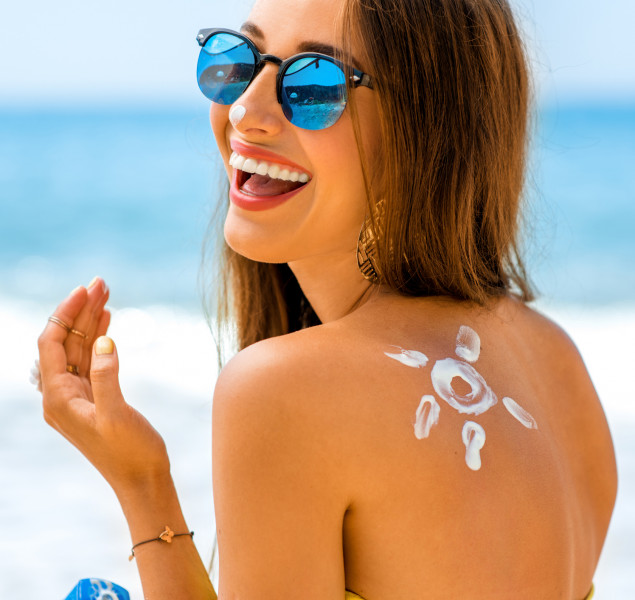 06.01.2017
Sunscreen FAQ's
We love summer here in Northwest Arkansas. The beautiful terrain allows us to become adventurous and outdoorsy - biking, kayaking, swimming, boating, hiking, picnicking. The list goes on and on! At Premier Dermatology, we love that our patients participate in many of these activities, but we also want you to be sun-smart about it! What do we mean by sun-smart? Sunscreen, sunscreen, sunscreen! We get asked a lot of questions regarding sunscreen, and we're here to help! Below is a list of frequently asked questions.
Q: How much sunscreen should I use?
A: Use enough sunscreen to generously cover all exposed skin. Follow the guideline of 1 tablespoon for your face and 1 ounce for your body (enough to fill a shot glass). Most people only use 25-50% of the recommended amount of sunscreen. More is more! Sun hats with a UPF rating are also functional and stylish solutions.
Q: Do I need to use it on my whole body?
A: Just remember to apply sunscreen to any skin that may be exposed to the sun including the ears, neck, face and top of feet. Don't forget your lips, too! To protect your lips, apply a lip balm that has an SPF of 30 or higher. We recommend EltaMD UV Lip Balm Broad Spectrum SPF 31.
Q: How often should I reapply?
A: Reapply every two hours and after swimming or sweating. Even though your sunscreen may claim to be water resistant, you should still reapply after swimming. Sunscreen manufacturers are now banned from saying sunscreens are "waterproof" or "sweatproof" as the FDA has determined that these terms are misleading.
Q: What type of sunscreen should I use?
A: The best type of sunscreen is the type you will use over and over again. Just make sure it offers broad spectrum (UVA and UVB) protection and has an SPF of 30 or higher. Our dermatologists highly recommend mineral sunscreens containing both zinc and titanium. A couple of our favorites are Elta MD UV Sport (SPF 50) and Elta MD UV Aero (SPF 45). Both are water-resistant for up to 80 minutes.
Q: I've heard a lot about Infrared Radiation (IR) lately. What is this, and should I be concerned?
A: There are two levels of infrared light which we need to be aware of, IR-A and IR-B. Although IR-B can stimulate some pigmentation, it is not the biggest concern. IR-A rays penetrate all the way to the hypodermis which is where new skin cells are formed and nutrients are delivered to the skin. Recent research suggests that IR-A exposure can cause inflammation, premature skin aging, and cancer - three VERY big reasons for concern. Both HydroPeptide Solar Defense and HydroPeptide Solar Defense Body Spray are great sunscreens for protecting against UVA, UVB, and IR rays
Q: Should I use a different sunscreen for my face?
A: Yes! Facial sunscreens are typically formulated differently than sunscreens for the body. They are designed to feel lighter and be more easily absorbed. We love SkinCeuticals Physical Matte UV Defense and Physical Fusion UV Defense.
For post-procedure, sensitive, or acne-prone skin, Elta MD UV Clear is a patient favorite.
Check out SkinMedica Total Defense + Repair. This particular sunscreen incorporates UVA/UVB/IR protection and anti-aging properties…win-win! In fact, SkinMedica has research that proves this superscreen actually reverses damage while preventing future damage. Available in clear, tinted, and water resistant.
However, if you're in a pickle and you only have body sunscreen, please use it! A zit is a lot less permanent than a sunspot!
---
Lindsey Jeffs, Cosmetic Coordinator
"My go-to for sun protection is SkinMedica Total Defense + Repair SPF 34. This lightweight, anti-aging, antioxidant-packed superscreen gives me peace of mind knowing my skin is protected from harmful sun and environmental damage."
READY TO SCHEDULE?
Book your medical or cosmetic appointment online. Complimentary consultations are available for cosmetic services.