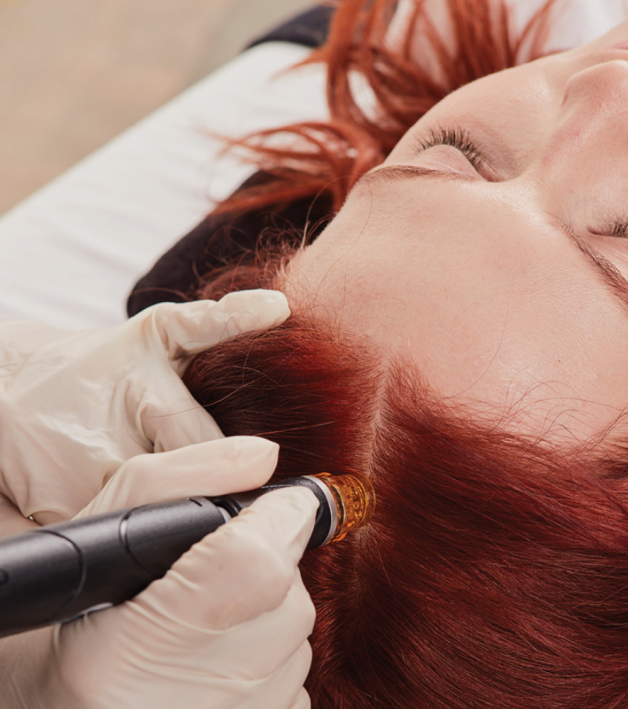 Hydrafacial Keravive
Healthy hair starts with a healthy scalp
Created by The Hydrafacial Company, a leading aesthetic skin health technology manufacturer, Hydrafacial Keravive is a unique, relaxing treatment designed to cleanse, stimulate, nourish and hydrate the scalp for fuller and healthier−looking hair.
The Hydrafacial Keravive treatment uses vortex technology and Keravive Peptide Complex Solution to cleanse, exfoliate, stimulate, and deliver a proprietary blend of growth factors and skin proteins to hydrate, nourish and stimulate the scalp. The result? Thicker, fuller, healthier−looking hair.
Shop Now
Time
30 min
Keravive treatments are quick and can be performed over a lunch break.
Treatments
3+
In-office treatments should be performed once a month for 3 months alongside daily use of take-home products throughout treatment period. Follow-up treatments are recommended, one every 6 months.
Price
$$
A treatment series includes 3 in-offices sessions and at-home products for $1,197.
Downtime
None
Keravive treatments can be performed easily on anyone with a scalp! Post treatment, the hair may be slightly damp, but most patients can resume normal daily activities right away.
How Keravive Works
Hydrafacial Keravive is a 3–step treatment:
Step 1: Cleanse & Exfoliate


(in-office)

Step 2: Hydrate & Nourish
(in-office)

Step 3: Extend & Enhance
(at-home)

Hydrafacial Vortex Technology extracts dirt, oil and impurities from the scalp and hair follicles.
Hydrafacial Keravive Peptide Complex Solution nourishes and hydrates the scalp and hair follicles with biomimetic growth factors and skin proteins to promote healthier, thicker−looking hair.
Daily use of the Hydrafacial Keravive Peptide Complex Spray enhances the in−office treatment and delivers daily nourishment to the scalp and hair follicles. The combination of in–office cleansing, exfoliation and hydration, and daily use of the take–home spray deeply nourishes the hair follicles for healthier, shinier, thicker−looking hair.
READY TO SCHEDULE?
Book your medical or cosmetic appointment online. Complimentary consultations are available for cosmetic services.