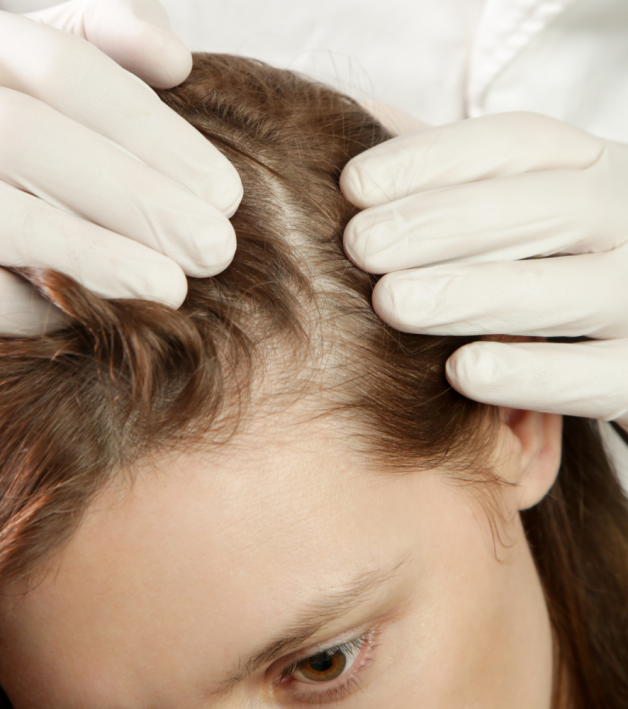 Keralase
Intelligent care for hair loss
Keralase is a unique new treatment for hair loss using a combination of the LaseMD Ultra Laser and the powerful Kerafactor serum. Keralase is designed to stimulate hair growth in men and women who are suffering from adult pattern thinning and hair loss due to hormonal, environmental, or physiological factors. These non-surgical treatments are safe, quick, and almost completely painless.
Shop Now
Time
< 30 min
Keralase treatments are quick and comfortable. They can easily be worked into busy schedules.
Price
$$
A series of 6 treatments (one per month) is recommended for optimal results. Each session costs $750 for a total of $3,500 for the series.
Discomfort
None
The treatment itself is very comfortable and involves no needles or injections. Most patients report a warm, tingling sensation. There is no downtime associated with Keralase, so patients can return to normal activities immediately.
Results
8 Weeks+
Patients will see revitalized hair follicles as well as an increase in hair diameter. These results will become visible after 8 weeks and will continue to improve for approximately 6 months after the Keralase series.
What is Keralase?
Instead Microneedling or PRP which can be painful and messy, Keralase offers a revolutionary treatment for hair loss with less pain, less treatment time and more predictable results when compared to PRP hair treatments. Keralase combines LaseMD Ultra with Kerafactor Serum which has a proprietary blend of growth factors to improve scalp health and stimulate hair growth. The LaseMD Ultra creates micro-channels on the scalp to improve absorption of Kerafactor Serum. Treatments are quick with minimal pain – no needles, no bleeding, no downtime.
The Keralase Treatment is quick with minimal discomfort, and no downtime. Treatments take less than 30-minutes starting with the application of the LaseMD Ultra laser. Hair is gently parted and the laser energy is directed to the scalp and hairline, this may feel warm or tingle. The next step is the application of the Kerafactor Serum which feels soothing. Once the serum is totally dry, the treatment is complete. The serum should be left on overnight and washed off the next day. The treatment area may be slightly sensitive with mild redness, but this will subside within a few hours. Days after the treatment you may notice hairs in the telogen phase (resting phase) shedding due to the laser, but this is to be expected. Treatments should be repeated monthly for a total of 6-treatments.
About LaseMD Ultra
The LaseMD Ultra is the same device used for our LaseMD facial rejuvenation treatments because it is specially designed for maximizing absorption of topicals into the skin. Instead of stimulating collagen with our facial treatment, we are using the laser to prepare the scalp to absorb the Kerafactor Serum. The LaseMD Ultra creates tiny non-ablative micro-channels in the scalp for optimal delivery and absorption of the serum. During the treatment the hair is gently parted, and the laser energy is applied with a few passes to the scalp and hairline. After the LaseMD Ultra, the Kerafactor Serum is gently massaged into the scalp and treated areas. The proprietary serum is a blend of powerful synthetic growth factors and proteins wrapped in nano-liposome casing for optimal delivery to promote hair growth.
About Kerafactor Serum
The Kerafactor serum has high concentrations of biomimetic synthetic growth factors and proteins which promote hair growth and target all four stages of the hair life cycle. The micro-channels created by the LaseMD Ultra laser has been shown to increase skin absorption of the Kerafactor serum by more than 5x. Kerafactor is coated with nano-liposomes, which make it "skin friendly" and help with enhanced delivery directly to the hair follicle. This boost in growth factors and proteins leads to improved circulation and vascularization for hair rejuvenation.
READY TO SCHEDULE?
Book your medical or cosmetic appointment online. Complimentary consultations are available for cosmetic services.