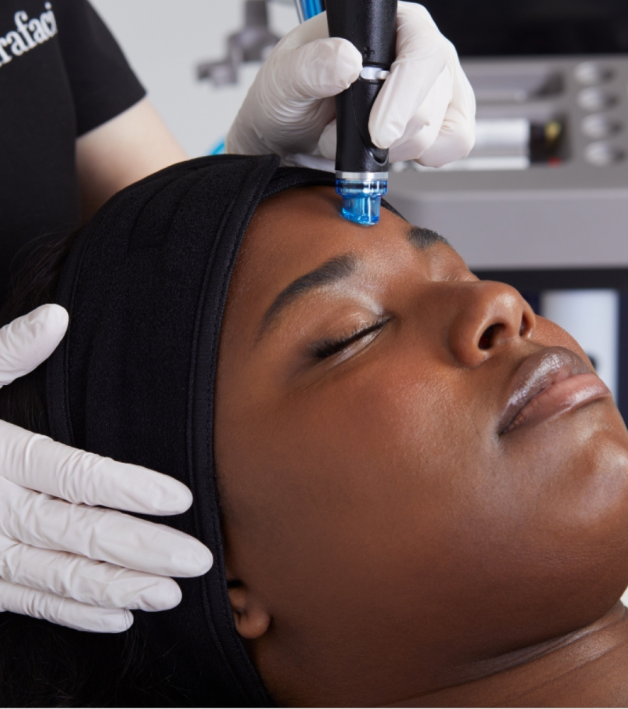 Hydrafacial
Only Hydrafacial uses patented technology to cleanse, extract, and hydrate. Hydrafacial super serums are made with nourishing ingredients that create an instantly gratifying glow in just 3 steps.
Shop Now
TIME
30-60 min
The HydraFacial treatment is a fast, efficient treatment that takes as little as 30 minutes. The treatment is often described as a feeling like "a cool paintbrush moving over the face".
RESULTS
1+
Many people report seeing visible skin refinement and an even, radiant skin tone after just one treatment. The smooth results and hydration may last 5 to 7 days or even longer. One treatment per month is recommended for improving the appearance of fine lines, wrinkles, hyperpigmentation, oily and congested skin.
PRICE
$ – $$
Prices start at $200 for our Express HydraFacial treatment. Add-ons, deluxe and platinum treatment options are available.
DOWNTIME
None
You may put on make-up and return to your normal activities right after the treatment since there is no downtime.
About HydraFacial
Hydrafacial is a non-invasive, non-surgical procedure that delivers instant results with no discomfort or downtime. The treatment is a breakthrough in aesthetic technology, with its ability to moisturize the skin separating it from other skin resurfacing procedures. The HydraFacial treatment removes dead skin cells and extracts impurities while simultaneously bathing the new skin with cleansing, hydrating and moisturizing agents. The resurfacing procedure is soothing, moisturizing, non-irritating, and immediately effective.
The Hydrafacial resurfacing treatment thoroughly enhances the skin using patented Vortex Technology to cleanse, extract, and hydrate simultaneously. It merges soothing and invigorating spa therapies with advanced medical technology to achieve instant and lasting results.
Hydrafacial evolved from microdermabrasion which is a non-surgical process of removing the skin's outer layer using a stream of micro-crystals blasted onto the surface of the skin. However, HydraFacial does not use crystals to assist in the exfoliation process but instead uses a specially shaped spiral tip which exfoliates and removes impurities along with applying various serums that cleanse, hydrate and provide antioxidant infusion during the treatment process.
| | | |
| --- | --- | --- |
| CLEANSE + PEEL | EXTRACT + HYDRATE | FUSE + PROTECT |
| Uncover a new layer of skin with gentle exfoliation and relaxing resurfacing. | Remove debris from pores with painless suction. Nourish with intense moisturizers that quench skin. | Saturate the skin's surface with antioxidants and peptides to maximize your glow. |
Available Add-Ons
Eye Perk, $40
The Eye PERK works with our HydraFacial machines to tighten, moisturize, and hydrate the delicate area around your eyes. The PERK™ Eye Replenishing Serum has green tea extract, arnica flower extract, oat kernel extract, citric acid, and earth mineral peptides to hydrate and brighten your eyes. In less than ten minutes, our aestheticians will apply the PERK™ Eye Replenishing Serum to your eyes, leaving you with a fully refreshed look and no downtime! Plus, you'll get to take home the rest of your Eye Replenishing Serum and soothing eye masks to use for the next 30 days or so, until you're ready for your next PERK™ Eye Treatment!
Lip Perk, $40
The Lip PERK is a revolutionary system that works with our Hydrafacial machines to plump and hydrate your lips in less than ten minutes! The PERK™ Lip Revitalizing Serum contains peppermint oil, aloe leaf extract, and peony extract to hydrate and moisturizes lips, leaving them lightly plumped and relaxed. Plus, after your PERK Lip Treatment, you get to take the rest of the Lip Revitalizing Serum home with you! You'll also receive a PERK Lip Balm SPF 30 to use 2-3 times a day. It should last you about 30 days, just enough time to care for your lips at home before your next facial and PERK™ Lip Treatment!
READY TO SCHEDULE?
Book your medical or cosmetic appointment online. Complimentary consultations are available for cosmetic services.