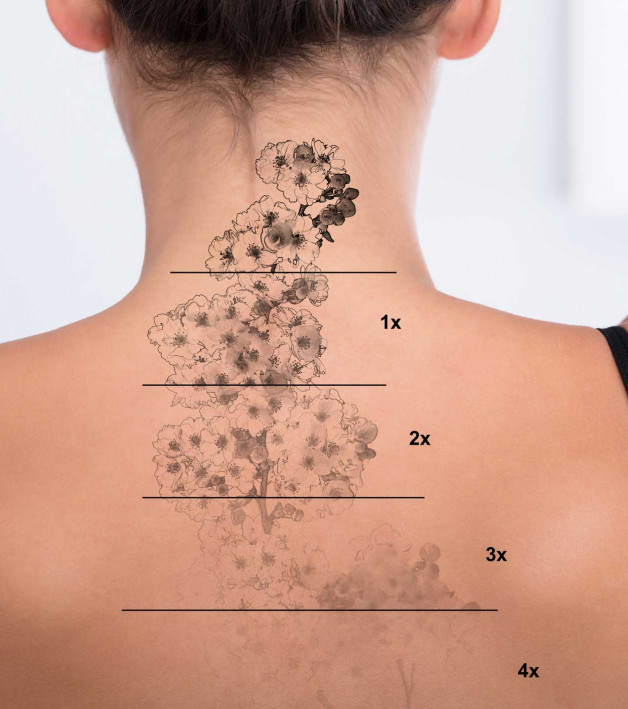 Laser Tattoo Removal
Premier Dermatology and Skin Renewal Center is proud to offer RevLite - the top of the line laser tattoo removal system.
Shop Now
Time
30+ min
Actual treatment is very quick but is dependent upon the tattoo size and location. Local anesthesia is provided and preferred by most patients.
Results
6+ sessions
Results are gradual. Certain colors of ink are quicker to eliminate than others. Most patients need 6 to 8 sessions.
Price
$$
Pricing is based on the size of the tattoo. We charge $100 per square inch.
Downtime
Moderate
The treatment area is commonly treated similarly to a wound. We recommend keeping the area covered while healing for up to a week.
What is Laser Tattoo Removal?
Lasers are the safest and most effective way to remove tattoos and avoid scarring. The RevLite laser works by sending different wavelengths safely into the skin to target the tattoo at its core. The tattoo ink is broken into particles and eventually eliminated through the body's natural processes. On average, professional tattoos require 6-8 treatments. The number of treatments depends on the amount and type of ink used and the depth of the ink in the skin. In many cases 95% fading of the tattoo occurs.
Maximum Power and Versatility
Delivering 1064 nm and 532 nm, with MultiLite Dye Handpieces extending the wavelength capabilities to include 585 nm and 650 nm, RevLite SI provides the versatility you need to target the full color spectrum of tattoo inks. It also allows you to perform non-ablative skin resurfacing, wrinkle reduction, and acne scar reduction, and is proven effective on dermal and epidermal pigmented lesions, including melasma.
RevLiteSI's advanced technology features include:
SmartInfiniteTM (SI) Handpiece
MultiLite Dye Handpieces (585 nm and 650 nm)
532Lite Handpiece
PhotoAcoustic Technology Pulse (PTP)
Precision Beam Technology
Precision That's Quick and Easy
The Smart Infinite (SI) Handpiece provides continuous 0.1 mm micro-adjustments in spot size, enabling you to easily select the largest spot size with the highest fluence for faster and more efficient treatments. The spot size setting is automatically communicated to the laser control system, making spot size changes quicker and easier than ever.
Skin types I – VI are recommended to have these treatments.
READY TO SCHEDULE?
Book your medical or cosmetic appointment online. Complimentary consultations are available for cosmetic services.