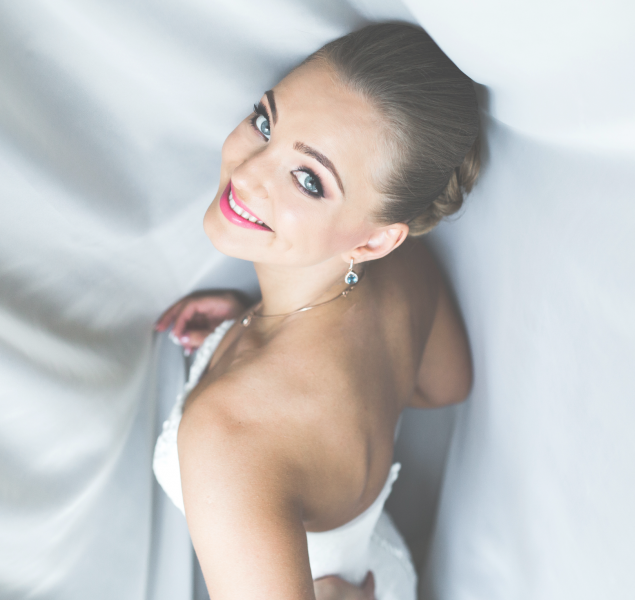 07.01.2021
Skincare Must-Haves for Brides
Good Skin, Good Mood, Good Day
The simple fact is, if you are over the age of 25, it's time to get serious about your skincare regimen. Your skin will represent you for a long, long time so why not treat it with the love and care it deserves...especially when planning your big day!
Great skin all starts with a great skincare regimen that consists of a cleanser, treatment product, moisturizer, and sunscreen. It's important to apply these products in the correct order for best absorption and most benefits from your products.
PRO TIP: The rule of thumb for layering skincare is to apply in order of thinnest to thickest. Always end with sunscreen!
Where do I start?
Premier offers a state-of-the-art skin analysis device, called VISIA, to look deeper into the layers of the dermis. VISIA measures your skin in a variety of ways:
pigmentation

pore size

and porphyrins (evidence of bacteria lodged in pores)

UV spots

sun damage

texture

wrinkles

eyelash length and fullness
Another interesting feature of VISIA is that it allows us to compare your results against people in your peer group. VISIA even determines the age of your skin!
The best part - VISIA is complimentary! It takes about 30 minutes of your time for us to assess your skin and determine which skincare options would be best for your concerns.
Cleansers
Once your skin has been assessed, it's time to find your winning lineup of skincare products. Cleansers are up first! Cleansers are designed to help remove make-up, dirt and excess oil that can cause breakouts. Its best to find one that suits your skin type. Also, know that your skin changes over time, so what you were using in your youth may not be suitable for the skin you have today.
Exfoliating cleansers are great, but be mindful of over exfoliating your skin. Ideally, you want to exfoliate your face 2-3 times a week if your skin can tolerate it.
FAVORITES
Treatment Products
The treatment product category can get out of hand really quickly! There are so many serums, lotions, and potions that promise to correct every skin concern you have ever had, but the truth is that skincare is a journey. It is going to change and adjust over time. Once your skin is analyzed, we will know where your trouble areas may be. At that time, we will choose a product that will not only address those concerns but also improve them. This is where I believe using medical grade products is best because they will give you the results you are looking for.
Two treatment products that I have seen make dramatic improvements in patient's skin appearance and overall health are TNS Advanced+ Serum and LUMIVIVE System. These treatment products are game changers as stand-alone products, but when used together in one skincare regimen, they pack a powerful brightening, anti-aging punch.
FAVORITES
Retinols
Don't forget about my good friend Retinol! If you want to enhance your skin's texture, tone, and resiliency, this is the product for you! Retinol is a compound made from vitamin A that neutralizes free radicals, boosts collagen, and encourages cellular turnover. It creates a smoothing effect for fine lines and wrinkles while shrinking pores. The vitamin A inside the retinol can help speed up healing, reduce breakouts, and give the skin a healthy glow. It is recommended to only use retinol at night because it can make you more sensitive to the sun. It should be applied after TNS Advanced+ Serum and LUMIVIVE night.
Note: This product is not safe for pregnant and breastfeeding patients.
FAVORITES
PRO TIP: Retinol can be mixed with a moisturizer for a 2-in-1 skincare step. Retinol should be used gradually! Work your way up to using it nightly since it is such a potent product. Retinol is available in different strengths. If you are new to using it, I would start with the lowest dose until your skin adjusts.
Moisturizers
Now for everyone's favorite product: Moisturizers. Moisturizers are in the feel-good category. After cleansing and applying your treatment product, now is the time to seal in the hydration. Unlike lotions that have a high-water content, moisturizers are emollient based and are designed to bring vitamins and minerals into the skin, not just to the surface.
When choosing a moisturizer, you need to consider your skin type. Even if you have oily skin, you should still use a moisturizer. It sounds wild, but using a good quality oil-free moisturizer on oily skin will help control your natural sebum production.
FAVORITES
Sunscreens
The last and most important product in your skincare lineup must be a sunscreen. Sunscreen does so many important things for your skin that it should be an everyday product you use whether it's sunny outside or not! Sunscreen helps protect your skin from UV rays, lowers your risk of getting skin cancer, prevents premature signs of aging, and can help maintain an even skin tone. Sunscreen is one of the best ant-aging products on the market. Find one that fits your skin type that is at least 30 SPF. And use it. Everyday. I am not joking.
FAVORITES
To recap, when applying your skincare, go from thinnest to thickest in application after cleansing.
Cleanser → Treatment Product → Moisturizer → Sunscreen (AM) / Retinol (PM)
The best regimen for you is one that is designed for your skin type and skin concerns. Remember, your skin can change and products that you have used for years (or even a few months) may need to be adjusted to new ones depending upon what your skin needs. Premier is here to help you through this process, and we have several medical grade options for you to choose from at all price points. Take care of the skin you are in!

READY TO SCHEDULE?
Book your medical or cosmetic appointment online. Complimentary consultations are available for cosmetic services.