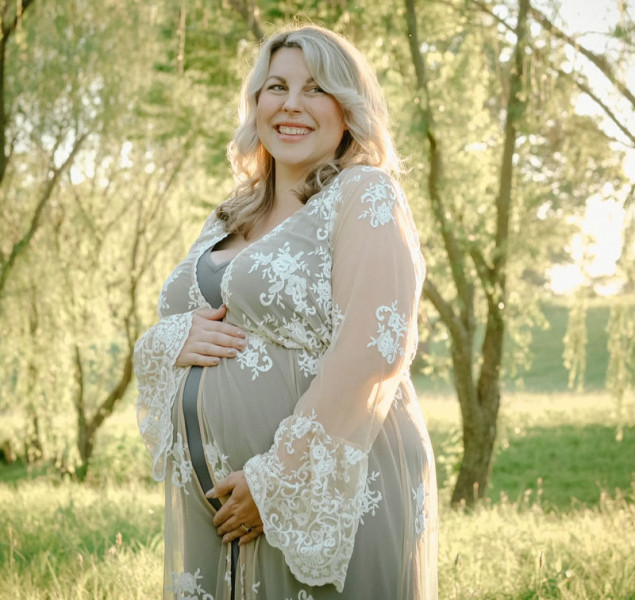 07.07.2022
Pregnancy & Skincare
I can't believe it. I just CAN'T believe it! I've never seen a test turn positive so fast in my life. The best moment of my life to date would be the day I found out I was pregnant. It has been a dream of mine ever since I was little - I always wanted to be a Mama. Finally at the age of 35, it was happening. So many emotions flooded my body from extreme excitement, to worry, and back to blissful happiness. I circled my living room for what seemed like hours waiting for my husband to come home from work to tell him the amazing news. Doctors appointments were scheduled, baby books were bought, and now it was time to start researching all the things I should and shouldn't be doing.
Skincare was my first research subject.
Since it's what I talk about all day, every day as a profession, I naturally wanted to brush up on what skincare is recommended during pregnancy. Not to mention I have been getting regular cosmetic injections every four months, so redesigning a new anti-aging and pregnancy-safe regimen was a MUST for me. From my years of learning about skincare, I knew that certain products and treatments were not safe during pregnancy/breastfeeding, but I wanted to study the reasons behind it.
The first thing that happened to me was acne.
During pregnancy there are a multitude of dramatic changes that can happen, not only to our bodies but to our skin. For example, the first thing that happened to me was chin acne. (I haven't experienced a breakout like this since my teens!)
Normally, my go-to routine would be upping my retinol to make sure I'm using it nightly and adding in a treatment serum that has salicylic acid in it. Unfortunately, those ingredients are off limits during pregnancy. Retinol is a derivative of Vitamin A, and this vitamin (in high doses) has been proven to be toxic during pregnancy - potentially causing birth defects. Salicylic acid is in a category of acids called BHAs (beta hydroxy acids). During pregnancy, BHAs need to be avoided.
The alternative acne treatment is a product containing glycolic acid, an AHA (alpha hydroxy acid). Glycolic acid helps remove clogged pores, decreases excess sebum under the skin, and improves skin texture. With most skincare products, it takes 3-6 weeks of consistent use to see the change happen in your skin.
SkinCeuticals Glycolic 10 Renew Overnight has been my best friend for not only controlling breakouts but for giving my skin a lovely lit-from-within glow. Its suitable for all skin types and should be used nightly.
Melasma is possible during and after pregnancy.
In addition to breakouts, a type of skin discoloration called melasma can form during pregnancy. I haven't experienced this yet myself, but as we head into the heat of the summer, I'm trying to be as mindful as I can.
Melasma is an increase in the body's melanin that can cause the dreaded "Pregnancy Mask". This can sometimes dissipate after pregnancy, or it can linger for years to come.
Sun protection in the form of a mineral sunscreen, meaning one that contains physical minerals like Titanium Dioxide and Zinc Oxide, is a must for helping to prevent melasma as well as lessen the look of it. A wide brimmed hat is also recommended. Don't fret if this happens to you there are ways we can help after pregnancy/breastfeeding that have been proven extremely effective.
In the meantime, SPF should always be your BFF! (Yes, I've had many best-friend products during my pregnancy!) My favorite is EltaMD UV Elements because it has a great mousse-like consistency, so it feels luxurious when I apply it. The tint gives my skin the appearance that I have a little make-up on, and it checks the box of being a physical SPF as well as incorporating hyaluronic acid to help reduce the appearance of my fine lines.
What about wrinkles?
Then, of course, I wondered what I am going to do about all my wrinkles! Ever since I began working at Premier 6 years ago, I have been getting regular cosmetic injections that helped correct wrinkles on my forehead, crow's feet, and in between my eyebrows. In addition to using medical grade skincare, I have been happy with how smooth and wrinkle free my skin has looked.
Botox and fillers are not recommended during pregnancy/breastfeeding due to the fluctuating hormones that could cause irregular results. Additionally, not enough in-depth studies have been done to show their safety during that time.
So, my next best option is to turn solely to medical grade skincare. My two MUST-HAVES are Revision Skincare Revox Line Relaxer and SkinMedica TNS Advanced+ Serum. Revox Line Relaxer should be applied first after cleansing to help reduce horizontal and vertical expression lines in 15 minutes. The serum is very light, absorbs quickly and can work with any skincare routine you already have. I always follow this up with a pump of TNS Advanced+ Serum. TNS A+ lifts the appearance of sagging skin and enhances firmness to reveal smoother, plumper skin. These two products have saved my skin from looking dull, tired, and wrinkled!
Top-Recommended Treatment Products
I feel incredibly blessed to be on this journey of big changes into motherhood. It gives me great comfort knowing that a place like Premier exists with extremely knowledgeable providers who can assist in all aspects of skin health whether it be medical skin conditions that arise or cosmetic concerns to deal with after pregnancy/ breast feeding are complete. I'm doing my best to take each month of "this is new" in stride because at the end of this I get the best gift of all...a baby.
As always, we offer free cosmetic consults at Premier for skincare and services at any stage of life. Click below to book!
READY TO SCHEDULE?
Book your medical or cosmetic appointment online. Complimentary consultations are available for cosmetic services.