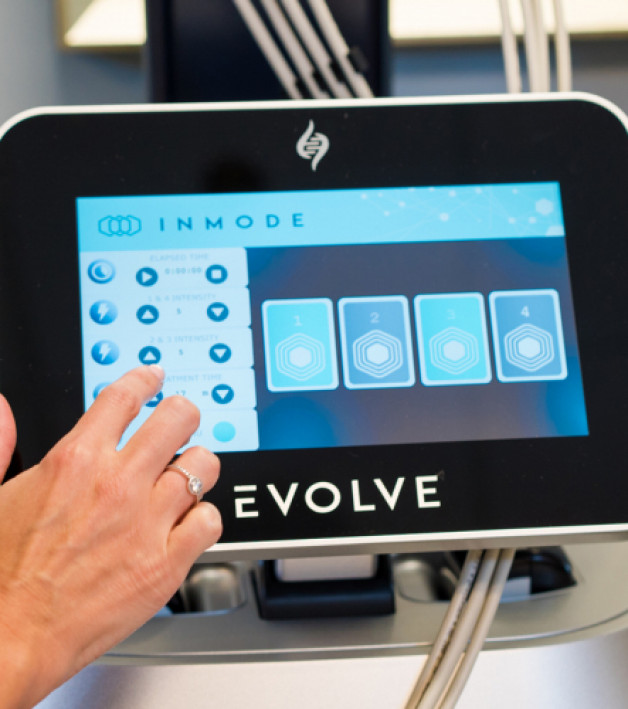 Evolve
Hands-Free Body Treatments
Evolve delivers multiple hands-free, non-invasive treatments on one system. Its innovative design deploys three proprietary technologies – Tite, Trim, and Tone – allowing for customized treatments to remodel skin, treat adipose tissue and tone muscles.
Shop Now
Time
30+ min
Evolve is a customized treatment for each patient. Treatment time will vary depending upon the number of Evolve treatments being combined in a single session.
Results
Gradual
With radio frequency, results are not immediate. Results will be visible approximately 3 months after the last treatment session.
Price
$$$
For most patients, combining any 2 of the Evolve treatment modalities is most effective (Trim, Tite, or Tone). A series of 6 combination treatments is approximately $3,000.
Downtime
None
Patients return to normal activities immediately after Evolve treatments.
What is Evolve?
Evolve Tite - A non-invasive hands-free procedure specifically designed to simultaneously remodel multiple body areas to improve the appearance of your skin.

Evolve Trim - A non-invasive, hands-free solution to improve the appearance of skin, reduce dimpled skin, and improve elasticity. Ideal for all areas of the body that require fat reduction.

Evolve Tone - A non-invasive, hands-free treatment to improve the definition of your natural physique without the downtime or scars associated with invasive surgery. Easily tone your abdomen, hips, and buttocks.
Premier Dermatology recommends a series of 6 treatment, utilizing a combination of any 2 treatment modalities. Pricing reflects this recommendation.
Evolve treatments are available at Premier Dermatology in Fayetteville.
READY TO SCHEDULE?
Book your medical or cosmetic appointment online. Complimentary consultations are available for cosmetic services.