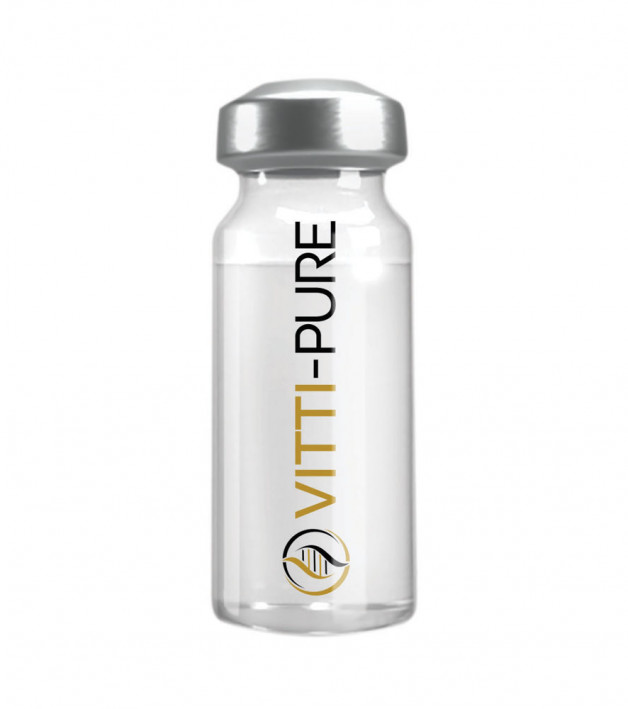 VITTI-PURE
PRP Alternative for Repair and Rejuvenation
THE DIFFERENCE IS PURE. VITTI-PURE utilizes umbilical cord tissue to provide a support matrix abundant in young growth factors supporting repair in the patient. This solution offers rich biological materials and growth factors while bypassing the drawing and spinning of blood and waiting times. This is why we call VITTI-PURE a "No Stick, No Spin, No Doubt" Solution.
Shop Now
What Makes VITTI-PURE Different?
Over time, the body naturally produces fewer growth factors for repair and rebuilding as represented in the chart (below). This indicates the slowing bio-availability of growth factors as we age which PRP Therapy relies on.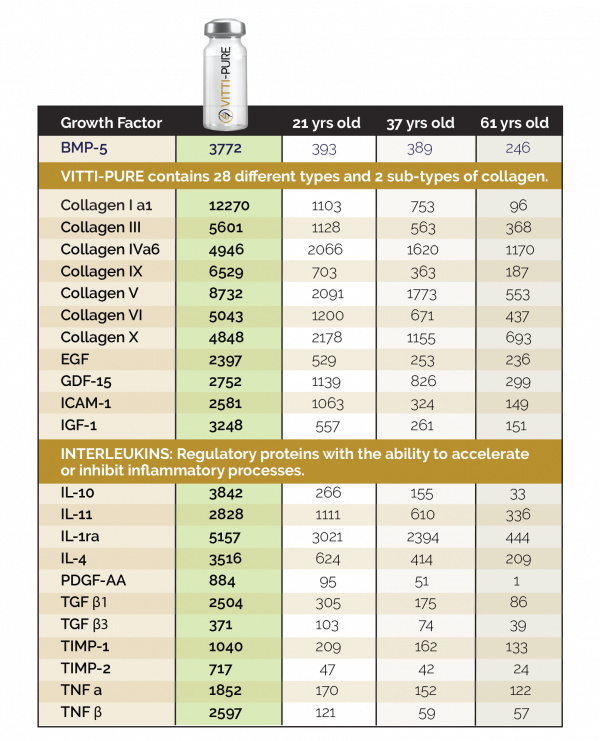 Many variables can affect the success of PRP such as:
Age of Patient
Type of PRP Kit
How Many Spins
Temperature of PRP
Type of Centrifuge
Activated/Non-Activated
Patient's Overall Health
Patient's Medications
If Patient Exercises Before Draw
VITTI-PURE provides the highest quality tissue support matrix for joints, tendons, ligaments, as well as cosmetic solutions for the skin. VITTI-PURE utilizes umbilical cord tissue to provide a support matrix abundant in young growth factors that support repair and rejuvenation. The umbilical cord tissue is an excellent source of glycosaminoglycans, hyaluronic acid, chondroitin, and glucosamine as well as other naturally occurring biological materials with excellent building blocks like proteins, lipids, nucleic acids, and naturally occurring peptides for structural support and repair.
VITTI-PURE's superior extracellular matrix (ECM) is minimally manipulated, therefore retaining its advanced growth factor profile of over 1,000 growth factors and 28 types of collagen as well as its complex structural support.
With these components VITTI-PURE creates an optimal product to encourage the rebuilding and repair of injury sites thus optimizing the body's innate healing potential.
VITTI-PURE is administered in-office. It can be injected into the skin (in place of dermal fillers) to improve the effects of aging, stimulating collagen production. It can also be applied topically after certain treatments, like micro-needling, for overall anti-aging benefits. For best results, a series of 3 treatments is recommended.
VITTI-PURE Contains:
Hyaluronic Acid

Elastins

28 Collagen Types

2 Collagen Subtypes

Nanoparticles

Proteins

Lipids

Nucleic Acids
READY TO SCHEDULE?
Book your medical or cosmetic appointment online. Complimentary consultations are available for cosmetic services.