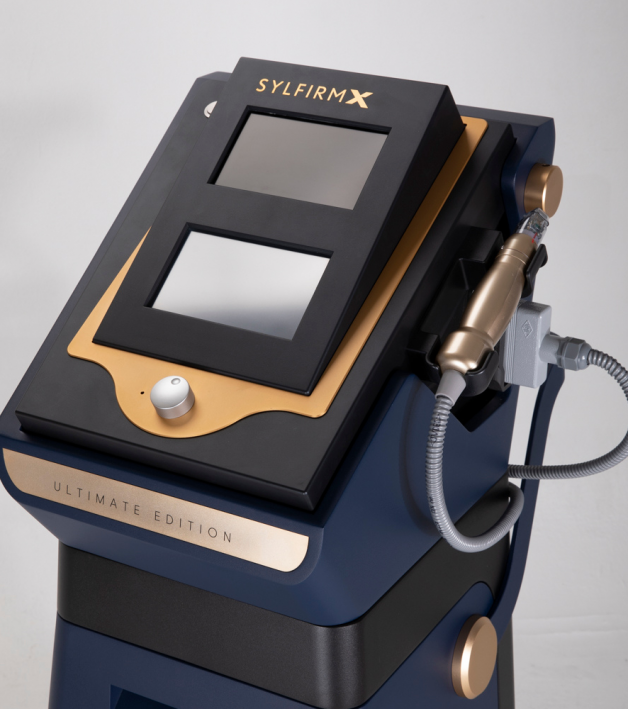 Sylfirm X
Dual Wave RF Microdneedling
The world's first & only FDA cleared Pulsed Wave and Continuous Wave Radio Frequency Microneedling device targeting both skin laxity and pigmentation for ultimate skin revitalization. Sylfirm X has proven its effectiveness and safety through 25+ clinical studies.
Time
30 min
Most Sylfirm X treatments only take about 30 minutes. When treating larger areas, treatment time will be longer.
Results
Continuous
Results can be seen immediately after Sylmfirm X treatments. The skin continues to remodel and improve for up to 3 months post treatment. For certain conditions, a series of treatments is recommended for optimal results.
Pain
Minimal
The pain and discomfort normally associated with microneedling and radio frequency treatments are so minor that most patients can tolerate treatments with little-to-no numbing.
Downtime
Minimal
Most people experience zero-to-minimal downtime after the treatment. You may have pinpoint bleeding, slight redness, and swelling right after your treatment as a natural response. However, these may be resolved in 24 to 48 hours.
About Sylfirm X Technology
Sylfirm X is the latest innovation in RP (repeated ultra-short pulse) microneedling technology that reacts to ONLY abnormal blood vessels and tissue to selectively treat increased pigmentation and vascular lesions—it is the only RF microneedling device approved to safely treat neovascularities including hard-to-treat conditions like rosacea and melasma.
This latest generation system is clinically proven to safely and effectively address a number of issues, including wrinkles, redness, acne scars, minimizing pores, and improving the overall look and tone of the skin.
Using an electronically controlled hand piece, the system uses 25 ultrafine gold plated needles to pierce the skin and deliver radio frequency energy (heat) below the skin's surface without damaging the outer layer of the skin. The system applies a precise energy level with each pass to ensure the RF microneedling penetrates to the correct depth to provide optimal results. The controlled micro-injuries created by the treatment result in upregulation in collagen production. This increase in collagen production leads to tighter, younger-looking skin.
Sylfirm X treats the following conditions:
Melasma
PIH
Redness
Enlarged Pores
Skin Laxity
Fine Lines & Wrinkles
Stretch Marks
Acne Scars
Active Acne
READY TO SCHEDULE?
Book your medical or cosmetic appointment online. Complimentary consultations are available for cosmetic services.